A Gorgeous Elegant Christmas Home Tour and Decorating Ideas
Find your holiday inspiration from an elegant Christmas home tour and decorating ideas on a budget plus home tours from over 15 unique home styles.
Hi there and welcome to a Very Merry Christmas Home Tour hosted by Lovely Etc where I'm sharing our elegant Christmas decor and decorating ideas. There are 18 beautiful homes to tour so make sure to check out the full schedule at the bottom of the post.
A huge thanks to Carrie for organizing. Make sure to start at the beginning with her lovely home.
An Elegant Christmas House Tour
If you are coming from Casa Watkins Living, hello! Today is our second day of A Very Global Christmas series where we are sharing 12 days of globally inspired Christmas DIYs, decorating ideas, and entertaining tips.
Yesterday I shared our elegant, eclectic, and old-world style Christmas tree in its full glory with twinkling lights so for today's Christmas tour I thought candlelight (in the middle of the day) would be nice.
The rest of the decor meets that old-world style and adding touches of chinoiserie and Haute bohemian vibes definitely gives it global flare. Let's get started, shall we?
Howdy, please come on into our Fort Worth, 60's single-story ranch. Our entire living area is open concept so I'm sharing all of the living spaces with you today.
Our foyer is so easy to decorate for the seasons after completing a makeover last Spring. I switch out decorating accessories on the foyer cabinet that usually holds a pottery bowl for car keys and shades. Now it has a Japanese bowl with greenery and a candle for a holiday centerpiece.
Elegant Christmas Home Tour Decorating Tips
Holiday decorating tip #1: Keep a pretty container in your foyer and change out its contents for the season. For example; Fall pumpkins, Easter eggs, and Christmas ornaments.
Last year a group of wreaths looked so pretty on the coat closet door that I decided to try a different wreath this year. I'll be sharing that DIY later this week.
I love that right when you walk in through the front door you are greeted with a full gallery wall. We have so many paintings and photos from travels and family. It's nice to see them all grouped together.
To the front of the house is my piano studio where I teach three days a week and the perfect spot for a Christmas tree. You can read all about tree decor and how to get the look in yesterday's Christmas tree post plus find tree decorating styles and inspiration from a lot of my favorite bloggers.
Holiday decorating tip #2: To freshen up your Christmas tree decor each year add one new element like a set of new ornaments, ribbon in a new color, or a different tree topper.
Christmas presents are already making their way under the tree. It's my husband's job to wrap them because he is a perfectionist! I always rush through and end up with a sloppy job.
I did enjoy adding a DIY touch to the gift wrapping and will be sharing exactly how I did that later.
The tree is nestled into the corner and provides a lovely view to whoever is sitting at the piano. Two mini moss wreaths are hanging on the pair of gold mirrors. The mirrors help brighten the dark corner and make the space feel larger.
I enjoy updating everyday decor for the seasons. I added a little bit of dollar tree garland to my trio of candles on the piano and poinsettias are sitting in an antique chamber pot.
Holiday decorating tip #3: Add garland and/or ornaments to everyday decor to make it perfect for the holidays.
In front of the tree is a small tulip table that gets used as a homework station, puzzles, game playing, and reading. The table is versatile and gets moved around often. It can also seat four extra guests at our dining table when we have company.
To the left of the piano is my music cabinet and Daphne. She is sporting a blue ribbon to match the tree.
Holiday decorating tip #4: Put a ribbon on it! Tie a piece of satin ribbon in a bow or just let it hang around vases, candle sticks, potted plants, and anything that needs a touch of glam. Black satin is my favorite and looks so chic.
Our living room has seen some recent changes with new artwork, sofa, and just switching things around.
I moved our arch floor lamp over to make room for the tree and I love it in its new spot! I've been wanting a visual divider between the living and dining spaces and I think it does the job splendidly.
Just behind it is a sweet seasonal vignette with winter art, a DIY gilded noel sign, and more dollar store garland wrapped candlesticks.
I guess we can go right around the corner into the dining room. I'll be sharing all of the details on the Christmas tablescape later in the Christmas series. But here's a glimpse of it.
My favorite is the use of Japanese obi and garland on the chandelier which is finally centered over the table.
I usually don't decorate the kitchen but this year I decided to give it a try! I hung a couple of wreaths and added Christmas towels. I love to keep the counters clear and display paintings and prints around. They stay out all year.
And here is the view from the kitchen back to the dining and living rooms. Wow! That's a lot of Christmas.
To the right of the dining table is a blank wall as I moved our dining buffet out to create more space. I hung my DIY Scandinavian-inspired Christmas wreaths from last year in the space.
And now we're getting to my favorite wall. The faux German smear fireplace! I'm still so in love with the easy DIY treatment and everything pops on it. Since I left the mantel garland asymmetrical I did the same for the beaded garland.
I need a name for our new portrait. He was recently gifted to me and I love how quirky it is, especially with Christmas decor!
Global elements were added to our coffee table decor with a Swedish candle chime and one of our bird cages I picked up in Hong Kong filled with DIY Japanese brushstroke ornaments.
The last little Christmas vignette is the bar cart between the living and dining spaces.
I had fun adding color-blocking ornaments in my grandmother's tom collins pitcher and Aunt Ruby's crystal ice bucket. The gold champagne flutes were a gift from my grandfather.
More crystal holds some faux pine stems on the bottom shelf with the Moravian star light. I love having so many family heirlooms!
The room I left out is our windowless office but you can check out decorating ideas for that space!
Join me on Instagram for behind-the-scenes, DIYs, decorating tips, room tours, and home inspiration. I'll see you over there!
That wraps up today's tour. I hope you found the decorating tips helpful and if you have any to share, please leave me a comment! I hope to have the bedrooms, hallway, and possibly the office decorated for Christmas soon.
Next on today's Christmas house tour is my long-time friend Emily from Our House Now a Home.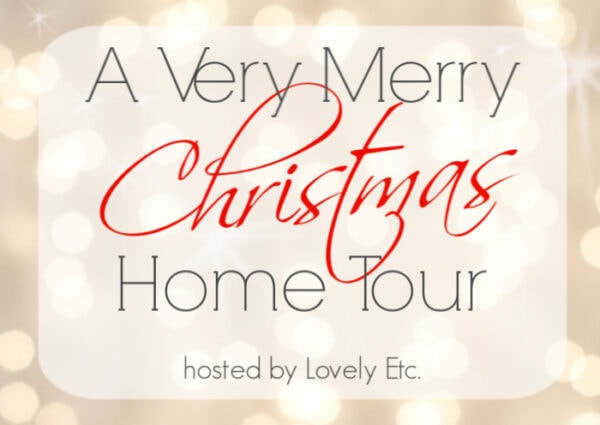 Monday

Lovely Etc * Thrifty and Chic * Boxy Colonial * Chatfield Court * A Brick Home
Tuesday

The Striped House * Casa Watkins Living * Up to Date Interiors * Our House Now a Home * All Things With Purpose
Wednesday

Green With Decor * Lehman Lane * Jonesville * Sweet Pea
Thursday

DIY Beautify * What Meegan Makes * Sunny Side Design * Bright Green Door
See you tomorrow,
Head over to the Winter holidays, DIYs, and decor page for more articles and resources!