Free Summer Printable: Life is Better in Flip Flops
Join thousands of subscribers and sign up for a free summer printable. Add instant seasonal decor in your home plus ideas for decorating with monstera plants and leaves.
This post contains affiliate links for your shopping convenience to brands I love. You still pay the same price but I may earn a small commission.
Have you picked up a new hobby during this crazy pandemic? I've been wanting to put my minor in art to use with digital art for a while.
I finally signed up for classes and am learning how to use the Procreate app. It is so much! When Carrie from Lovely Etc. asked to share a summer printable I instantly decided to create an original piece of wall art just for you.
Life is Better in Flip Flops Sign with Monstera Acrylic Art
The app is fun and simple to use after a couple of quick lessons. It is definitely different than painting with real paint and brushes. I love that you can "erase" paint and it includes a tool to help you create even lines that are perfect for unsteady hands or artists that drink too much coffee.
I painted a still life of a jade bottle with two monstera leaf stems and added a fun summer quote. The jade bottle was originally a liquor bottle I bought on a girl's summer trip to Taiwan to bring back to my husband.
We instantly gagged on the libation and dumped the remaining liquid. But I have gotten plenty of use out of the container for home decor which is why I snagged it in the first place. I hope you enjoy the printable wall art.
Life is Better in Flip Flops Meaning
Wearing flips flops is easy and gives your feet a chance to breath and feel the warm sun. Life is better in flip flops means that day to day activites can be causual, less stressful, and fun. Difficult responsibilites don't seem so bad.

Kathy
Here's the still-life subject on our fireplace mantel from last year's Spring home tour. Since then, I've applied a faux German smear to the brick and found a brass peacock fireplace cover that I adore. But this colorful vignette seems perfect for today's post. Monstera leaves and plants are so much fun to decorate with.
I've also used the jade vase and the faux mantel in our seating corner by Grandma's portrait. The tropical leaves looked so pretty with the DIY gold painted mirrors.
We've actually lived in a beach house and I happily embraced coastal decor and beach life with my eclectic style. Now that we are in Fort Worth, I like to display the nautical decor to create new vignettes that reflect places we've lived.
I had a huge live monstera plant when we lived on the sub-tropical island of Okinawa, Japan. It grew four times its size in just a year. It's funny how a plant can bring back memories. When I see the sculptural and tropical leaves I think of Okinawa.
I also found monstera leaves and other tropical stems at the dollar store when we lived in mainland Japan and created a colorful and tropical table setting. Not bad for $6 (or 600 yen).
I put together a round-up of different decorating items with Monstera that I love. Just click on an image to see the product detail.

This free printable flip flops sign was made just for you if you enjoy warm weather! Are you looking forward to summer? Find more awesome printables below from my friends.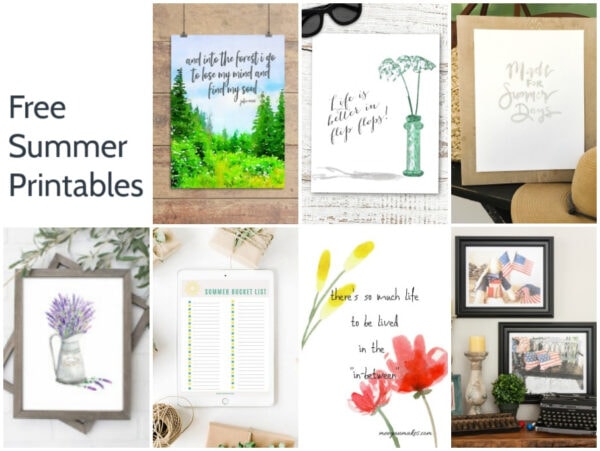 Free Printables: Colorful Art for Summer from Lovely Etc.
Free Summer Printable: Life is Better in Flip Flops from Up to Date Interiors
Set of 5 Summer Quote Printables from Twelve on Main
Watercolor Lavender Free Printable from Postcards from the Ridge
101 Summer Bucket List Ideas – FREE Printable from Charleston Crafted
There's So Much Life To Live Summer Printable from What Meegan Makes
Wall Art Free Printable | 3 Colorful Designs For Summer from Sunny Side Design
Have fun getting your house ready for summer and make sure to check out my summer page full of DIYs, decorating tips, and printables for the season.