Hello friends, today is an exciting day for me,  I get to meet my god-daughter!  I will be in WA for a week and will be able to keep up with my blog but to help me out, a couple of my fellow bloggers are sharing some of their favorite posts.  Today is Erin from the Speckled Palate and I actually asked her to share this cookie recipe because it looks amazing.  It will be perfect for my Christmas Caroling party and the upcoming holidays.  As you will see, she features a Christmas cookie week each year and this one is from a couple of years ago.
Get excited for a week of butter, sugar and pure awesomeness, y'all! It's Christmas Cookie Week, and I hope you're planning on joining in.

Today's cookie recipe is one of my personal favorites, and it is a recipe I have perfected after baking 28 dozen with my friends Lauren, Candice and Meki in preparation for my wedding reception's Cookie Table. (It was a little intense, ha.)
Yeah.
So.
This recipe does not make 28 dozen, so no fear.
You'll start off with softened butter. To get the butter to be this soft and wonderful, leave it out overnight (if you're baking in the morning) or pull it out of the fridge in the morning before you leave for work if you're baking in the evening. You want the butter to fall apart whenever you touch it.
You'll add sugar to your softened butter, then you cream the two together until light and fluffy. (See the image below if you're confused!)

Then you'll add the two eggs and vanilla extract.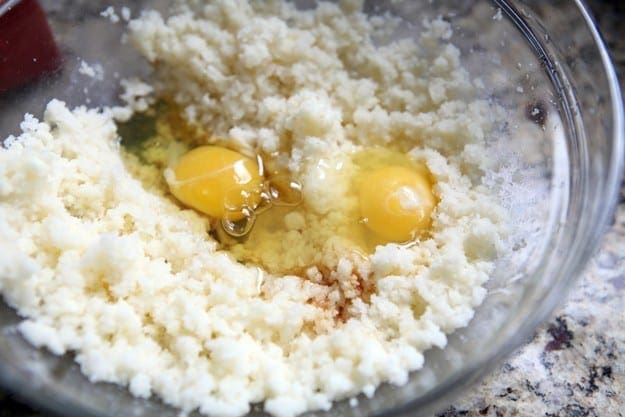 Using your mixer – or your super strong arms – mix these ingredients together until the dough is smooth.
While you're mixing the butter, sugar, eggs and vanilla, melt the unsweetened chocolate in the microwave. (Yes, this is OK. Just keep an eye on it so it won't burn. I recommend nuking the chocolate in 30 second increments until it is melted and smooth. If you try to microwave it for an extended period of time, the chocolate will burn. And it smells awful. … Just sayin'.)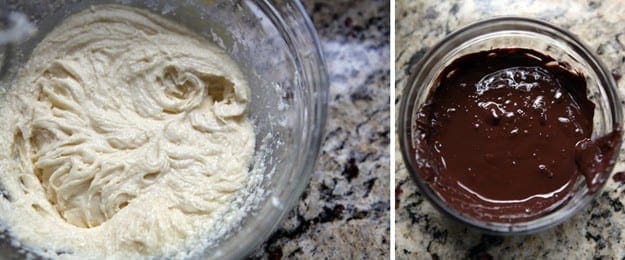 Add the cooled chocolate to the butter/sugar/egg/vanilla extract mixture and whip it up until combined.

Once it's all nice and mixed up, you'll take the dry ingredients – all-purpose flour, baking powder and salt – and sift them. You can sift them into a separate bowl, or you can just sift them over the wet ingredients. I do the latter because we don't have that many bowls in our kitchen.
And then once the dry ingredients have been sifted, mix them into the wet ingredients. Also add the milk. It'll take a little while, and your hand mixer might sound sad (or your arm might feel a little sore). Mix these until all the flour has been completely incorporated.
If you want to add pecans to the batter, now is the time to do it. Sadly, I didn't have any readily available at my house, so I held off. But these cookies are really tasty with the nuts if you like that kind of thing.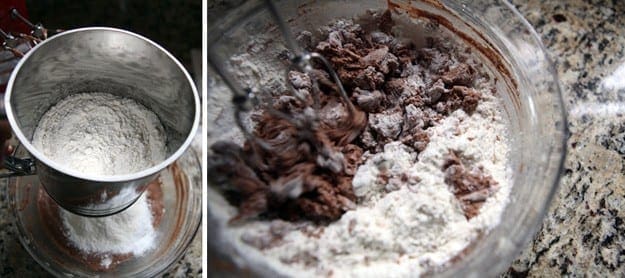 The final product will look something like this: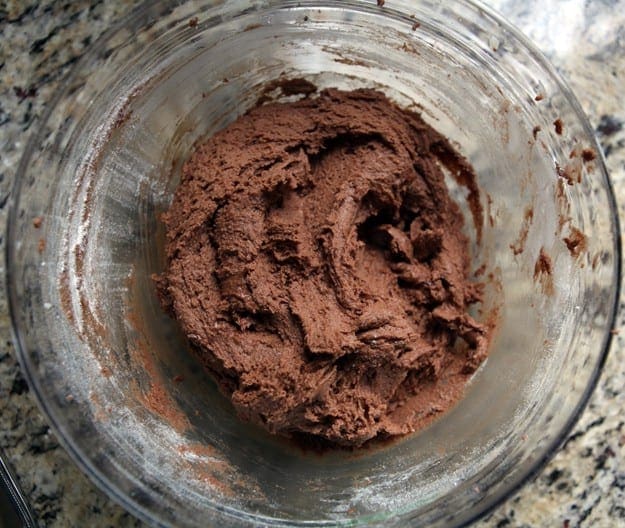 Now you've GOT to cover it with plastic wrap and place it in the fridge for at least an hour.
Trust me, y'all. While the batter looks like it's good to go, it's not. And if you try to roll it right now, you will have chocolate hands for the rest of the day. And significantly fewer cookies than if you had let it rest and chill.
Leave the kitchen. Take a walk. Play with your dog. Read a few blogs. Do SOMETHING to get yourself away from the cookie dough. And then come back to chilled dough.
Now is the fun part if you like getting your hands a little dirty. (Note: Take off any rings you wear now because this could get a little messy.)
Pull the batter out of the fridge and pinch off a 1 inch section of it. Roll it into a ball between your palms.
It'll look like this once rolled.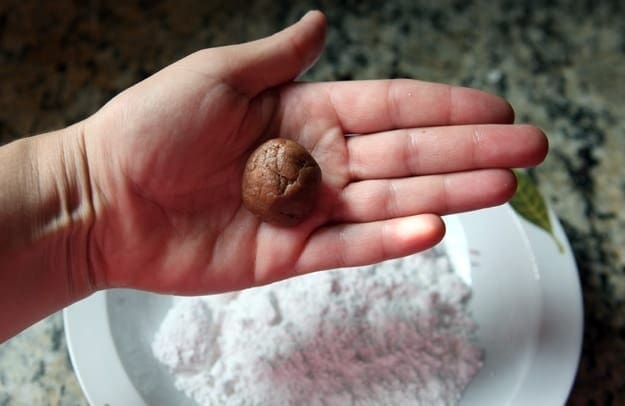 Take the dough ball and plop it into a bowl that contains a cup of powdered sugar. (The wider the bowl, the more dough balls you can roll before getting your hands all powdered-sugary.)
Roll the dough ball around until it is coated, then transfer it to a greased baking sheet.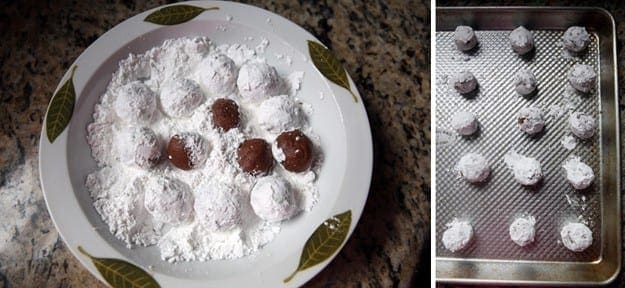 Once the baking sheet is full, bake at 350 for 15 minutes.
The balls will flatten slightly as they bake, but will be partially rounded when they are done.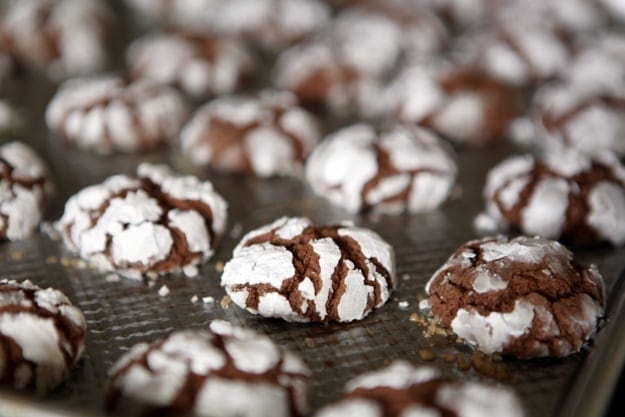 Then let all the beautiful little cookies cool. So you don't burn your mouth.
And then then enjoy!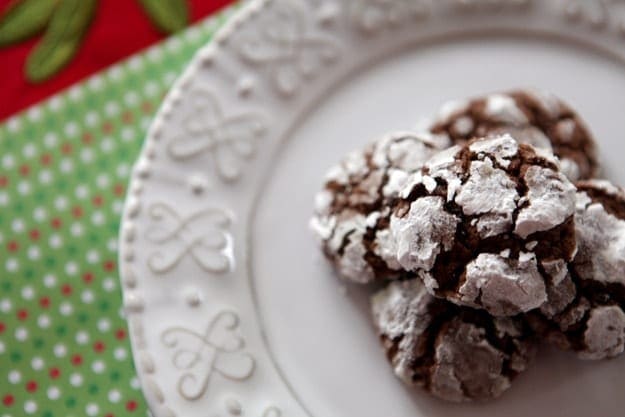 | | | |
| --- | --- | --- |
| Chocolate Crinkle Cookies | | |
Recipe Type:
Dessert: Cookies
Author:
Prep time:
1 hour 15 mins
Total time:
1 hour 30 mins
Chocolate-y, wonderful cookies. Makes 4 dozen.
Ingredients
1/2 cup unsalted butter (1 stick)
1 1/4 cup granulated sugar
2 teaspoons vanilla extract
2 eggs
2 ounces unsweetened chocolate squares, melted and cooled
2 cups all-purpose flour
2 teaspoons baking powder
1/2 teaspoon salt
2 tablespoons milk
1/2 cup chopped pecans **optional!**
1 cup powdered sugar
Instructions
Cream butter and sugar together until light yellow.
Add vanilla extract and eggs to the butter/sugar mixture. Stir until blended.
Add melted chocolate, stirring until mixture is an even light brown.
Stir in dry ingredients, alternating with the milk.
Stir in pecans.
Chill in refrigerator for at least an hour.
Shape into 1 inch dough balls and roll in powdered sugar until covered.
Bake at 350 degrees for 15 minutes.
Cool and then enjoy!
…
If you want to join Erin this year in Christmas Cookie Week make sure you are following her on facebook, twitter, or go to The Speckled Palate and check out her recipe box.
Thanks for stopping by,